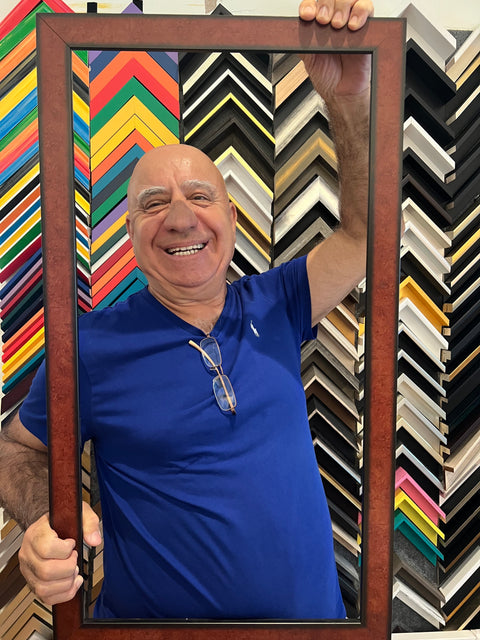 I wanted to highlight our custom framing service. Although I am an artist, I have always offered custom framing, the two go hand in hand and strategically it made sense. When my wife and I opened our first gallery we would build the frames ourselves, and I am proud to say that we still sometimes do! 
Custom framing was important to me, as an artist I can visualize what matte and frame will look best. I believe, having the artists touch, is what sets us apart from the rest. I have been doing custom framing for over 40 years, I know what looks best, what fits the painting, or mirror, or jersey, or whatever your heart desires. I also know what you need or don't need. Part of my success has been my unwavering honesty, and it is what keeps my customers coming back and trusting me with their art. You see, it is easy to sell someone on expensive things that they really don't need, but it is not right. I happy customer is a returning customer, and I have nor will I ever upsell you on things you do not need. Many times I have had clients come in with artwork and asked for museum glass. Museum glass is incredibly expensive, and often times unnecessary. I explain to them that unless the art is highly valuable it really does not require museum glass. Even if it is in direct sunlight, UV glass really only protects against lights in the home, nothing can protect it from sunlight. Even so, if your work is highly valuable, I would then recommend Museum Plexiglass, because if it falls it won't break, but is glass breaks and can damage the artwork. I believe it is vital to have all of the information so as to make an informed decision. 
If you are thinking of framing something, please do not hesitate to visit me at Gallery Mavruk, I'd be happy to help!